Interlocking polypropylene floor tiles
Floor tile Smoothtrax : Polypropylene floor tiles, new floor tiles SWISSTRAX. Tile with a slightly openwork design with a smooth top. An innovative product that complements our flagship model RIBTRAX. This tile with a flat top offers many advantages! This product comes from one of our studies conducted jointly with our customers. The question that often comes up when buying polypropylene clip-on floor tiles: Should I order your openwork pattern or solid slab pattern? This product called SMOOTHTRAX offers the advantages of these two products in one tile !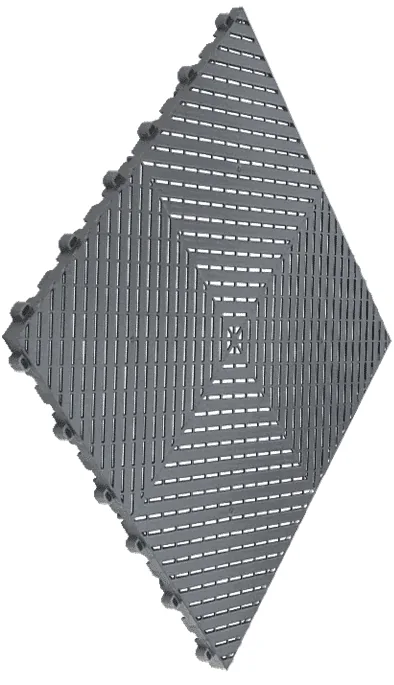 Tiles colour, style mix'n'match, borders… design all your needs for your garage.
Floor tile Smoothtrax with flat surface
This floor tile Smoothtrax have the peculiarity to have its surface smooth and not rounded as on the RIBTRAX model. Several advantages:
More comfortable (if you have to kneel on the floor)
Best suited to receive workshop equipment with wheels or castors, easier rolling
Easier to clean, no soiling inside streaks
Less risk of dropping small things through streaks, 3mm gap between streaks instead of 5mm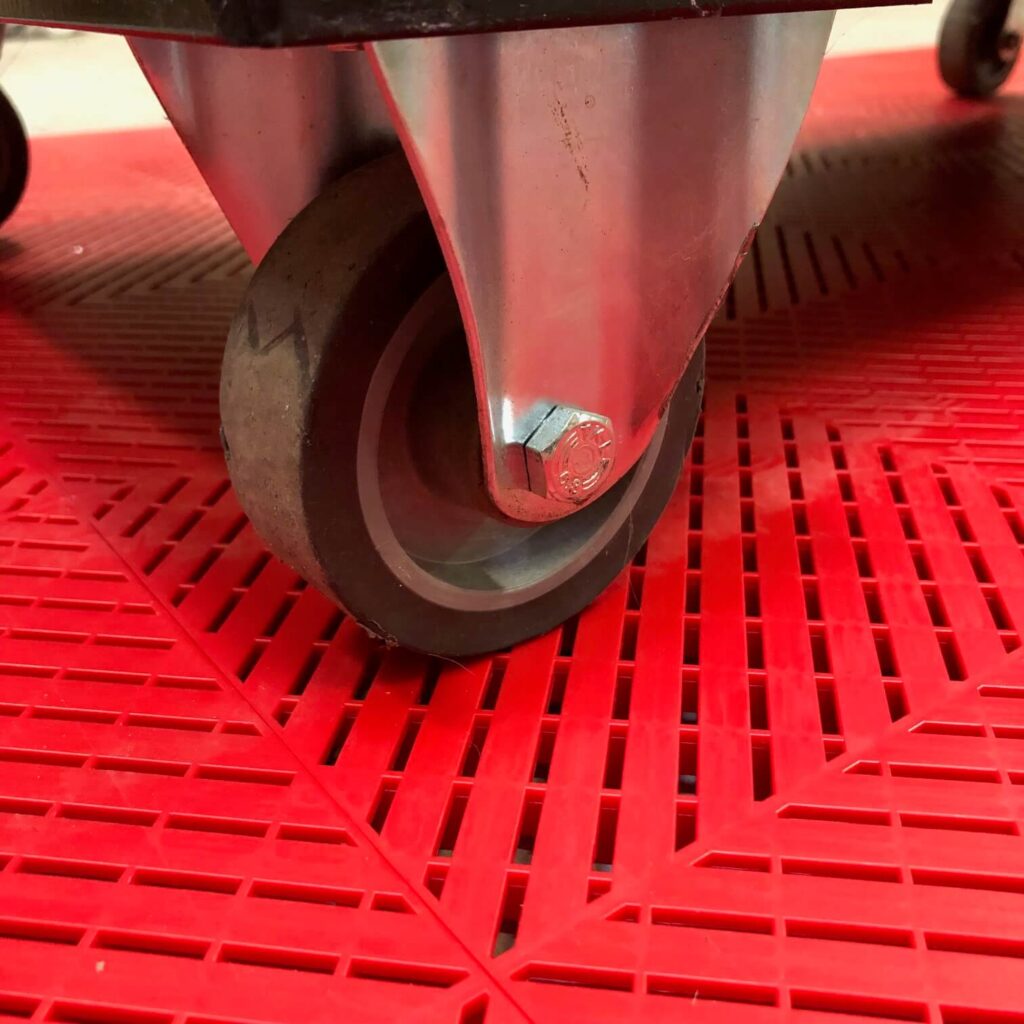 Floor tile Smoothtrax for many applications
A versatile product for various sectors :
Garage floor
Workshop floor
Cellar floor
Laundry floor
Pool floor
Flooring for sports field…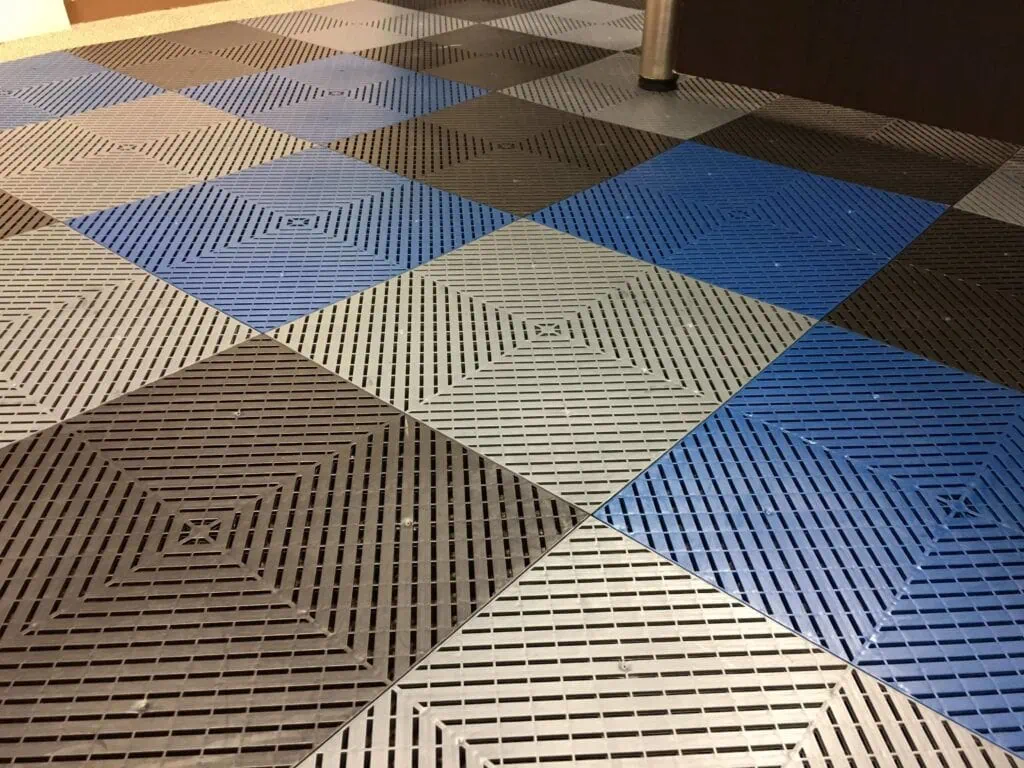 it has never been easier to transform your floor with SWISSTRAX products. Indoor or outdoor installation, these tiles will find their utility !
Premium quality floor tiles
SWISSTRAX products come from technical studies guaranteeing you every moment a product of optimum quality. We chose to produce these tiles in France for the respect of our customer quality commitments. A product 100% made in France offering maximum traceability and safety in the choice of raw materials from France or Europe.
The major qualities of the SMOOTHTRAX tiles :
Anti slip
Rollover strenght 25T/M2
UV stabilizer
Do it yourself
Silent
Oil and chemical product resistant
Open profile
Temperature resistant -20°C to 120°c
Adjustable
Recyclable
Floor tile Smoothtrax : Easier cleaning
The smooth top of the tile allows for easier cleaning, the flat streaks do not retain dirt. A simple mop or squeegee broom will do the trick for cleaning. Easier cleaning thanks to its flat top. This floor tile Smoothtrax is the compromise between Ribtrax open profile tile and Diamondtrax solid tile, you have a bit of both in this tile model. On the cleaning side, as well as the other tile in the Swisstrax range, a vacuum cleaner from time to time coupled with a wet mop with a household degreaser, the use of a squeegee is also possible. The use of a pressure washer or water jet is possible, the water will drain under your tiles thanks to the draining structure of the tile.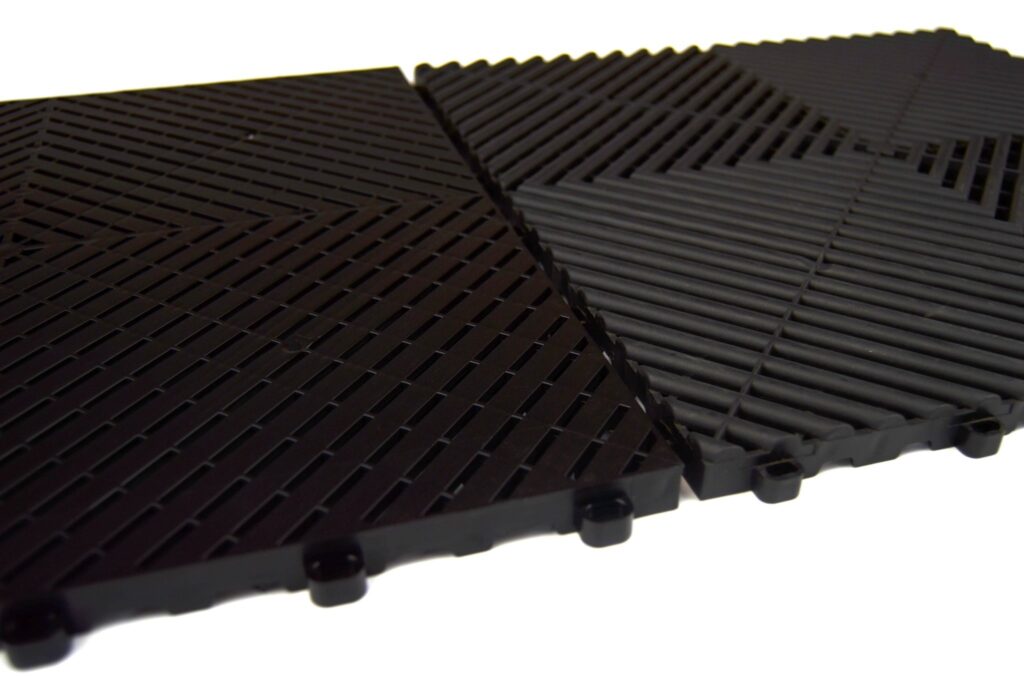 SMOOTHTRAX tile integrate perfectly with all the SWISSTRAX tiles, you can mix your models during installation. Reinforced mounting system identical on all models.
Tile dimensions 40×40 cm
Thickness 1.6cm
Packaging : 28 tiles in one box
Unit weight : 600 Grs
Box weight : 17 Kgs