AN ATTRACTIVE PODIUM FOR VEHICLES
Podium for vehicles for your regular exhibitions. Attract visitors to your booth with SWISSTRAX floor tiles. 21 colors of tiles available, different models and functions. Your podiums exhibition will leave your customers in awe. Old vehicles or modern vehicles, choose the tiles that suit your style with the complete Swisstrax collection.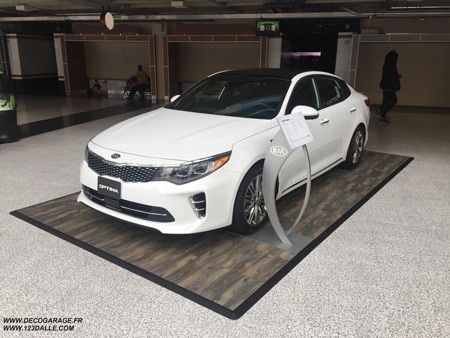 Tiles colour, style mix'n'match, borders… design all your needs for your garage.
An easily transportable podium for vehicles
Transport easily your podium for vehicles thanks to the very low weight and space requirement of the SWISSTRAX modular tiles. The tiles weigh unitarily 630/1000 Gr according to the chosen model. No need to use commercial vehicles to carry your podium, the trunk of a car will do. A common size podium represents 5.20m in length and 2.80m in width,  91 tiles proposed in barely 4 boxes (61Kg for Ribtrax perforated tiles). Mix the colors at will, the price remains the same!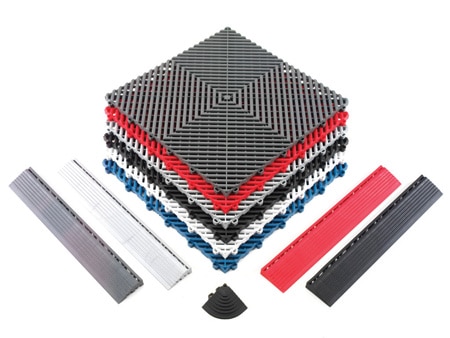 A car podium for inside or outside use
Use SWISSTRAX tiles for indoor and outdoor use
Outdoor use: We recommend only the RIBTRAX model, the tile with open profile structure. This tile allows natural drainage of any liquids (rain) and keeps your floor surface constantly clean. The other tiles of the Swisstrax range can be used outdoors but must be under cover.
Indoor use: The entire Swisstrax range can be used.
You can also mix your Swisstrax tile models, these podium tiles are all the same size. Create sporting atmospheres, ecological environments, receptive areas … Stand out from your colleagues who all use floor carpets which is unrepresentative of their activities! Bring a qualitative dimension to your exhibition in a few minutes!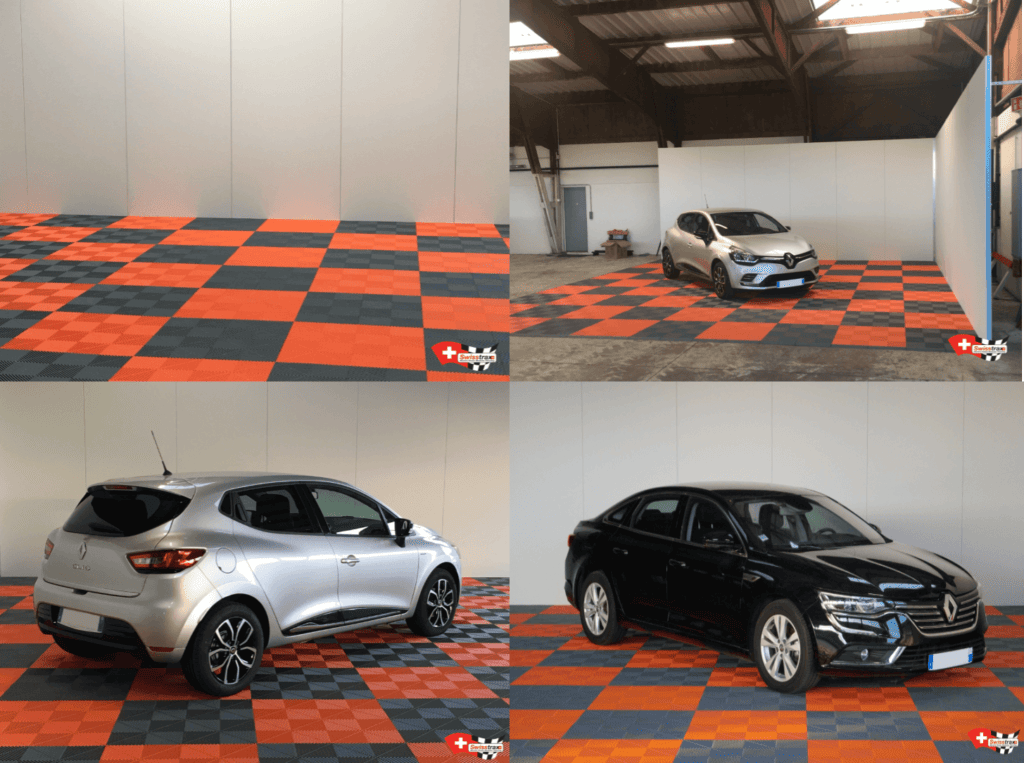 Exhibition floor tiles easily installed
Install your vehicle podium easily with the concept of clip-together tiles. No gluing, no joints, no specific preparation of your floor before installation! The tiles and edges are clipped to each other with a slight hand pressure, no special tools needed. A podium of 'standard' dimensions is installed in just a few minutes. For dismantling? ditto, a few minutes are enough for you to unclip your tiles. A reusable exhibition solution for every event unlike the carpet flooring.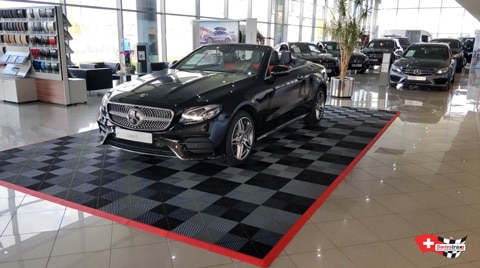 A real parking space
This SWISSTRAX podium for vehicles can also be used as a parking space in your garage. You have a very large garage and you want to realize only the location of your vehicle? Achieve the location and dimension of your choice thanks to the modularity of Swisstrax tiles. The slabs are simply clipped to each other. Finishing edges are recommended for exceptional design and secure accessibility to your vehicle location. The logo of your favorite brand or company can also be affixed to your floor.