Modular office floor tiles
WHICH FLOOR TO CHOOSE FOR AN OFFICE?
You want to renovate your facilities and the offices need a new floor both design and practical? Our Snap-On slabs install quickly, without any special skills or tools.
Use your rooms immediately after installation. The tiles do not require glue and do not emit smell during or after installation.
Tiles colour, style mix'n'match, borders… design all your needs for your garage.
A CUSTOMIZABLE DESIGN FOR YOUR OFFICE FLOOR
For offices we recommend the Vinyltrax Pro range. These tiles with very high-quality rendering will give a perfect finish to your project. Vinyltrax Pro tiles are available in several finishes.
Wood-like tiles
The Vinyltrax Pro floor tiles have a realistic wood look. They are available in 3 colour variations:
Vintage Oak: a grey wood with an aged effect.
Light Oak: a classic wood with a beautiful golden hue
Dark Oak: a classic wood look with a nice color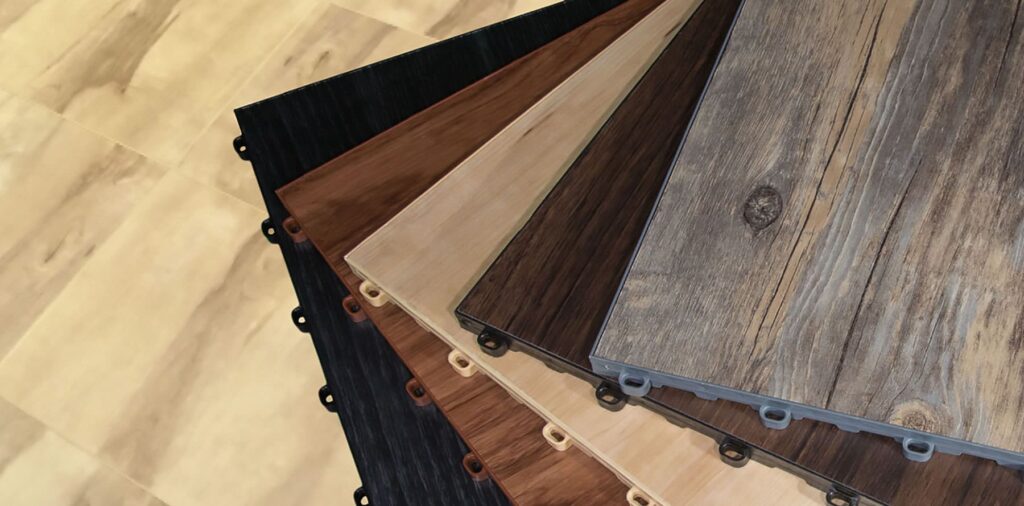 In marble finish the tiles have a stone rendering which corresponds to a lot of style because it strongly resembles a traditional ceramic or concrete tile.
In this finish 2 color choices:
Carbon fiber effect on tiles
Used as a body element for exceptional vehicles, in aeronautics for its strength, carbon fiber is a luxurious and aesthetic material that announces: speed, performance, durability and character.
The Vinyltrax Pro tiles with carbon fiber finish will give a modern look to an office.
The different finishes are made of vinyl, a material known for its resistance and its use for floors. SWISSTRAX tiles are maintained exactly like a classic tile.
QUICK INSTALLATION AND EASY MAINTENANCE OF YOUR OFFICE FLOOR
With the SWISSTRAX tiles you benefit from the advantages of tiling without the disadvantages. This results in a very simple installation and easy maintenance.
The tiles are installed by simple clipping. By positioning them one after the other they are clipped with a simple pressure with the hand. You don't need glue because the tiles are held together by the weight. You won't need patching. The fast installation time allows you to resume your activity very quickly, as does the lack of drying time.
The 40cm side slabs quickly fill the space (only 6 slabs per 1m²).
You install the SWISSTRAX floor tiles yourself, without having to call on an installer. You do not add additional work, unlike other office floor solutions such as tile, parquet, or vinyl rolls.
Finally, the tiles are maintained like a classic tile: vacuum cleaner, mop and standard household products!
COMFORT AND DESIGN: IDEAL FOR OFFICES
The SWISSTRAX floor tiles have high walking comfort. With a thickness of 18mm, they create a layer of insulation between the base floor and the foot. Office chairs and furniture with wheels glide perfectly on the surface without making much noise.
The slabs, made in France, are composed of two parts:
A first part, the base, which is the part that makes up the paving. It is that part that clips with the others. This base is compatible with all SWISSTRAX floor tiles. This base has a thickness of 18mm.
The second part is a 2.5mm thick vinyl inlaid on the base. This is the part that will make your design. It is repositionable and above all it is this part that you can change if you want to change the appearance of your tiles or in case there are damages.
The tiles are customizable and you can even integrate your logo into your design: it's the magic of vinyl. Our experts advise you in the wedging and calculation in order to provide you with a floor made for you.
A DURABLE AND TRANSPORTABLE OFFICE FLOORING SOLUTION
If you need to move, your tiles can follow! Nothing is final with a SWISSTRAX floor covering. In case of changes in your facilities or in case of a move, remove the tiles and take them with you!

The Vinyltrax Pro slabs are packaged by 17, in 19kg (2.72m²) boxes. This makes the tiles easily transportable. The tiles are delivered in boxes, ready to use (vinyl already installed). Just take the tiles out of the box and install them!

In case of cutting to fit, the tiles cut very easily, without dust and smell. For this a simple jigsaw or circular saw will be enough. The vinyl is cut with a cutter. You will therefore have a clean look, without having to clean dust all over the room.
HOW CAN YOU ORDER YOUR SWISSTRAX OFFICE FLOOR?
Contact us by one of the following means, indicating the number of m² required:
Our team of flooring experts will give you a free quote without obligation, on the day of your request.
SWISSTRAX Europe is a manufacturer of floor tiles for Europe. Our ISO9001 certified plant is located in France, in the Hauts-de-France region. All our products are available in stock. Deliveries are daily and are carried out by a national carrier.