GIVE YOUR GARAGE FLOORING A NEW LOOK |SWISSTRAX TILES
Garage flooring : easy to install, you do not need any glue, joints, or any specific tools : the tiles just simply sit on the surface of your floor, for a complete transformation in just a few hours with uncompromising resistance. Customize your floor with no special tools, experience or adhesives. Unlike epoxy or floor paint there is no prep work needed. SWISSTRAX is the world famous modular flooring.
Tiles colour, style mix'n'match, borders… design all your needs for your garage.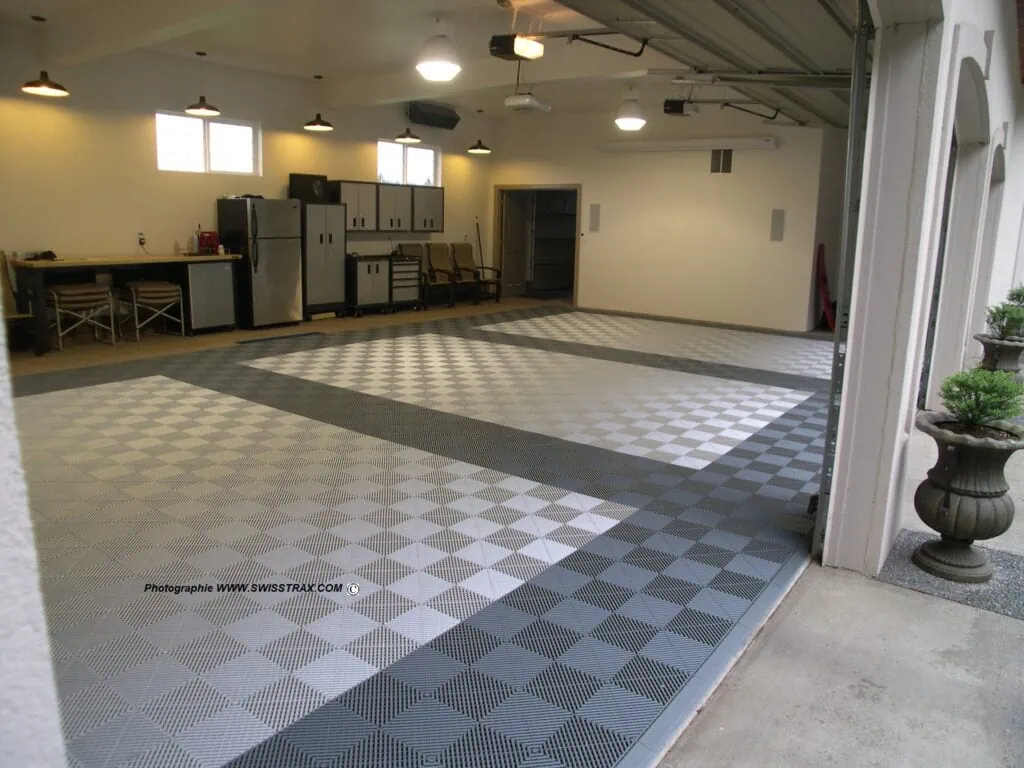 Extremely resistant garage flooring
Our garage flooring are designed in accordance with the highest standards, subject to permanent quality controls. They also offer high resistance (25 T / m2) thanks to our high-quality manufacturing. Each tile is reinforced by four injection points. These garage tiles resist spills of oil, engine oil and battery acid. So, you have nothing to worry about their durability ! Swisstrax makes the best garage floor tiles, leaving the competition in the dust, but we didn't stop there. We created a premium tile for those who demand the ultimate protection. 20 colors available for your garage floor, mix the colors for an ultimate design.
Check out our previous projects: Réalisations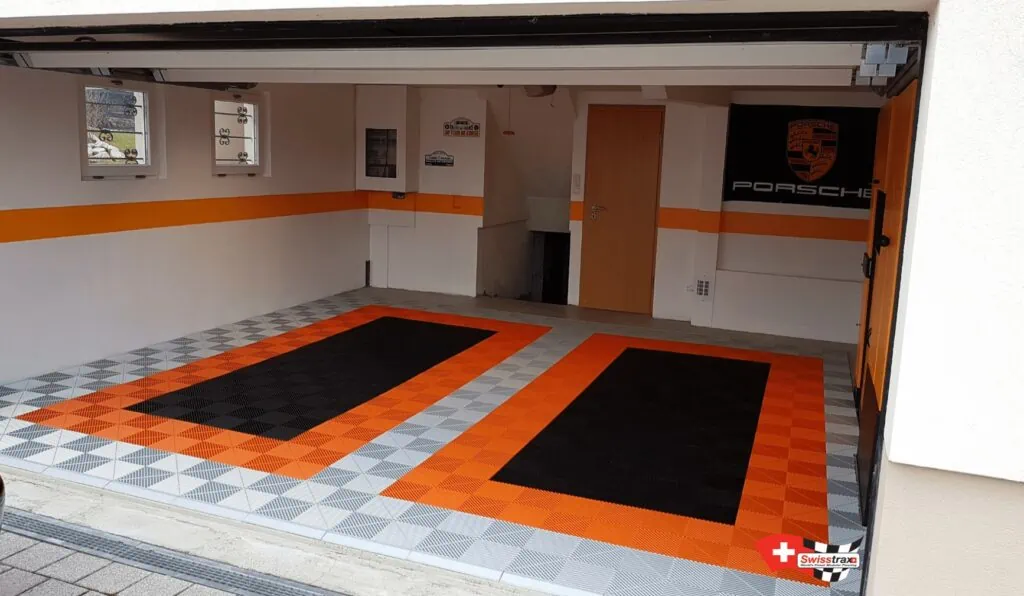 Easy and quick installation – DIY
The advantage of Swisstrax floor tiles; their installation requires no tools, no glue, no seal. Their installation is childishly simple. You simply lay them on the floor and clip them together. Installation by yourself, your floor tiles are easy to install, no special tool requires ! Just a clipping system…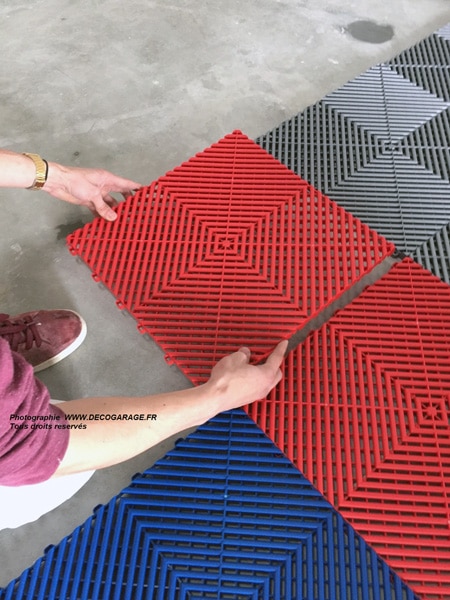 The complete transformation of your garage will only take a few hours (depending on the size of the surface). And your garage floor will be operational at that exact moment, only leaving you to welcome your vehicles.
How to order you garage floor tiles?
The answer is very simple: just tell us the dimensions of your garage or the surface to cover (in m2), and we will provide you with the number of tiles needed. If so, please also let us know if there is more than one access door to your garage.
You can choose the colors of the tiles to your liking: the rates are the same regardless of the color. It is possible to ask our Swisstrax Europe team a plan simulating the dimensions of your garage. This will help you make your color selection easier! This simulation is very convenient, fellow it when you receive your tiles ! All are available in stock in our headquarter in France and the shipping to European countries are fast.
Garage flooring maintenance
Cleaning your tiles has been designed to make your life easier. A hose or a high-pressure cleaner is enough for the washing of the tiles: the water will evacuate naturally due to their self-draining structure. In case of more stubborn stains, mix some household degreasers with water so that your garage floor tiles look like new again. Finally, be aware that the maintenance of your garage tiles is similar to that of a simple tile: Vacuuming and mopping the tiles from time to time is enough to extract impurities that are nestled between the tiles.
Concerning the shine and brightness of your tiles, anti-UV treatment is applied to the tiles during production.
And if you need to intervene on a part of the ground of your garage, the procedure to follow is easy: each tile can be withdrawn in a unitary way, simply by unclipping it. You will be able to access the natural floor of your surface without having to undo your entire installation.
Take a look at our tutorial video, to learn how to clean your garage tiles.