Garage tiles for your garage floor, the new flooring solution for your garage or basement. Easy and quick installation by simple clipping. No more important work ! Easy and DIY installation.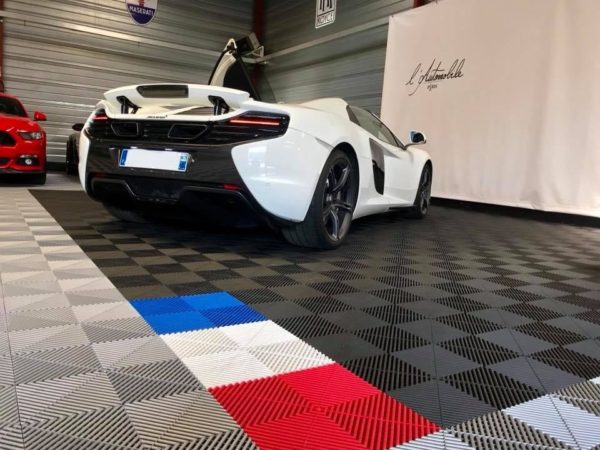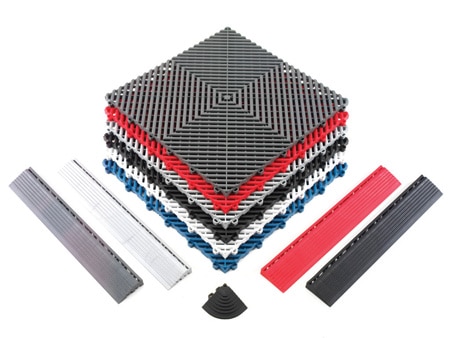 SWISSTRAX tiles have a very wide range of floor coverings. Several models of tiles, several colors, several styles … Do you need a sporty atmosphere in your garage? opt for RIBTRAX floor tiles ! A workshop atmosphere ? so why not Diamondtrax garage tiles ? You can also installed different models of SWISSTRAX tiles during your installation. All the tiles have the same dimensions. (40x40cm).
A new garage flooring solution ?
Yes we can consider that this garage floor solution is quite recent in Europe. Rest assured these garage tiles have been used in the USA for more than 12 years. A new solution to cover your garage floors in record time and above all easily and without major work. The ingenious clipping system makes it an easy and quick installation product, a product designed for you, DIY.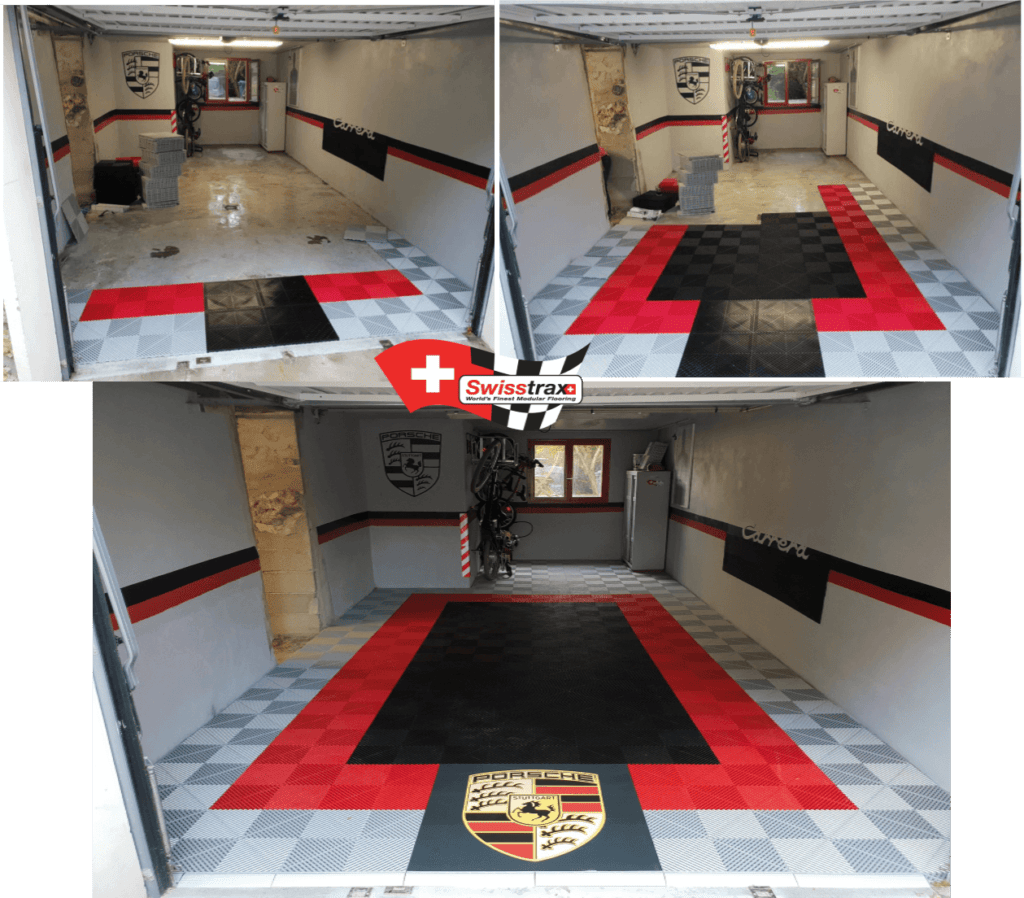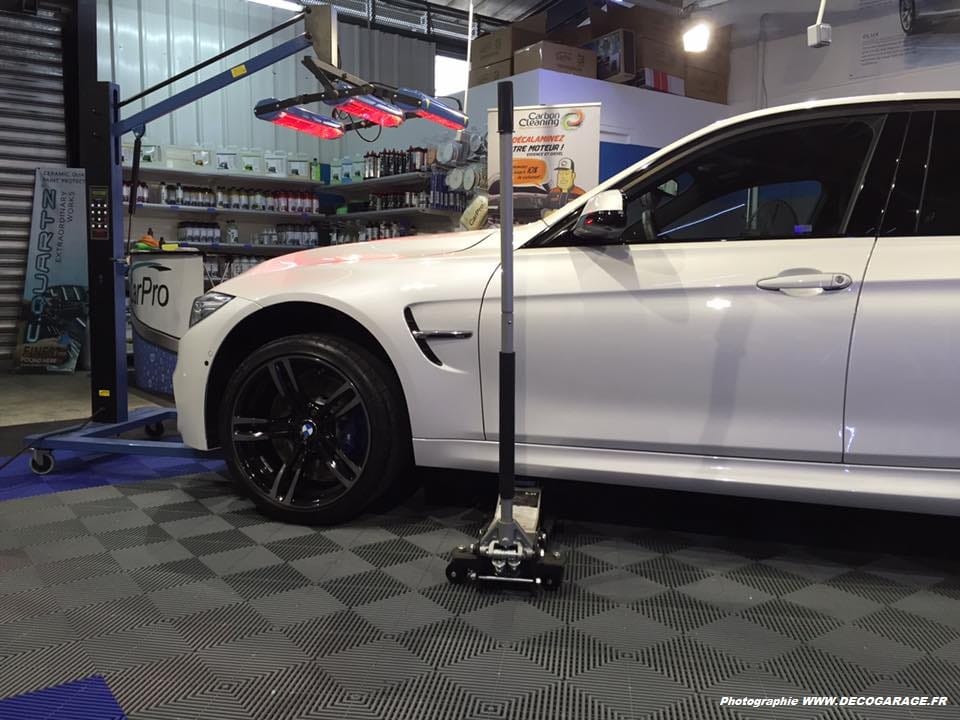 PREMIUM DURABILITY GARAGE TILES
SWISSTRAX brand tiles are made of polypropylene, an extremely resistant raw material. All the tiles are 18mm thick. Rollover resistance of 25T / sqm ! The surface of these tiles is non-slip, even wet. An extreme anti-UV treatment is added during production for a permanent color brilliance. Products made in France which offer optimum quality and professional customer support. The SWISSTRAX range intended for the European market is manufactured in France.
EASY AND QUICK INSTALLATION
The installation of these tiles comes down to simple clipping. No gluing or joint to be made, the tiles are placed directly on your floor. No patching necessary. Is your concrete floor not perfect ? This is not a problem, the SWISSTRAX tiles catch up very unevenly on your floor thanks to their dimensions of 40cm x40cm. The installation is done by yourself, no need to be a Professional ! The material necessary for the installation: A meter, a felt, a jigsaw, a pair of glove and protective glasses. Significant time savings during installation compared to conventional floor paint or floor resin. A 40Sqm or rectangular garage requires + -4 hours of installation.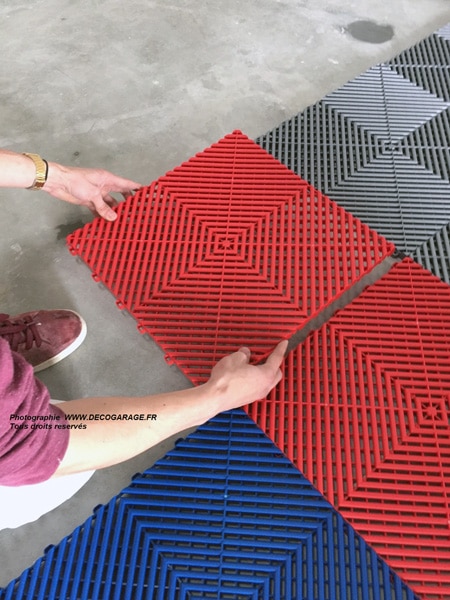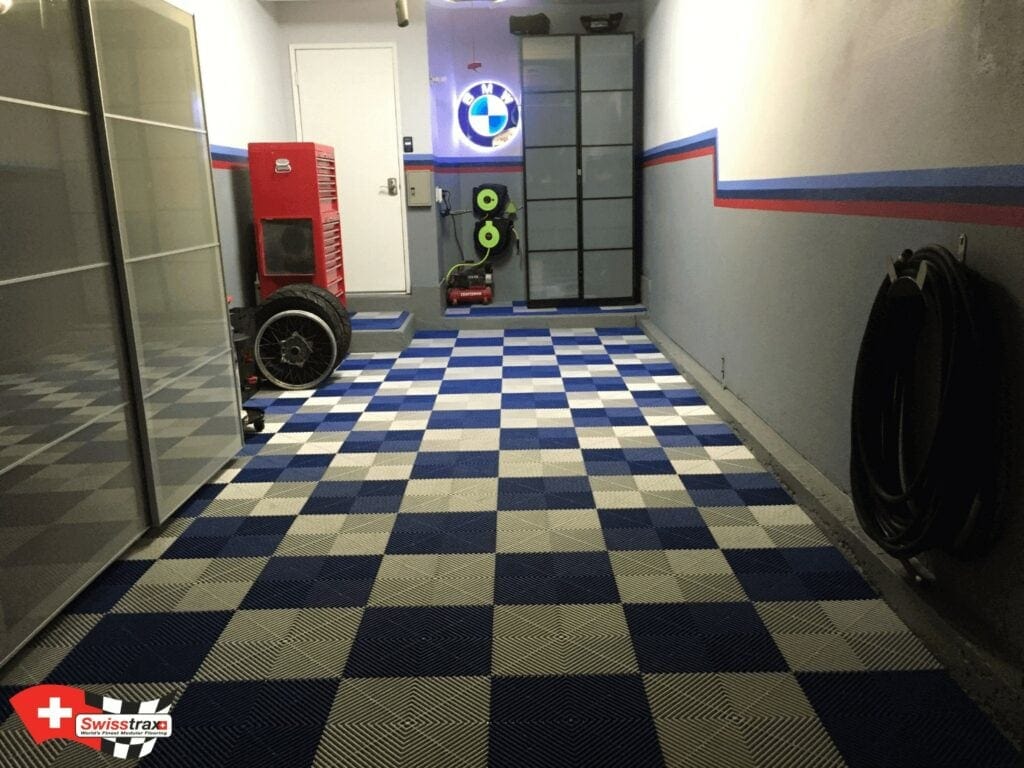 MULTI FUNCTION FLOOR TILES
We regularly talk about garage tiles, but these tiles are multi-purpose. You can use them for trade fairs floor covering and stands, terrace floor, balcony floor, car floor stands …. The versatility of this removable floor makes it an innovative product, therefore ideal for your various coating projects of floor covering. These garage tiles are more and more used for exterior fittings such as a terrace or balcony, low maintenance is an asset!
AN ASSISTANCE FOR YOUR PROJECT?
Download our floor layout document and simply return it by email, fast and free estimate, stock available. You can also inform us the dimensions of your garage to our specialists, they propose you a simulation of your floor with your selected colors. This simulation allows you to determine exactly your need for the number of tiles and will serve as a plan during installation! Entrust us with your garage dimensions, we take care of everything ! The SWISSTRAX online designer simulator is also at your service, make your own garage floor designs yourself.